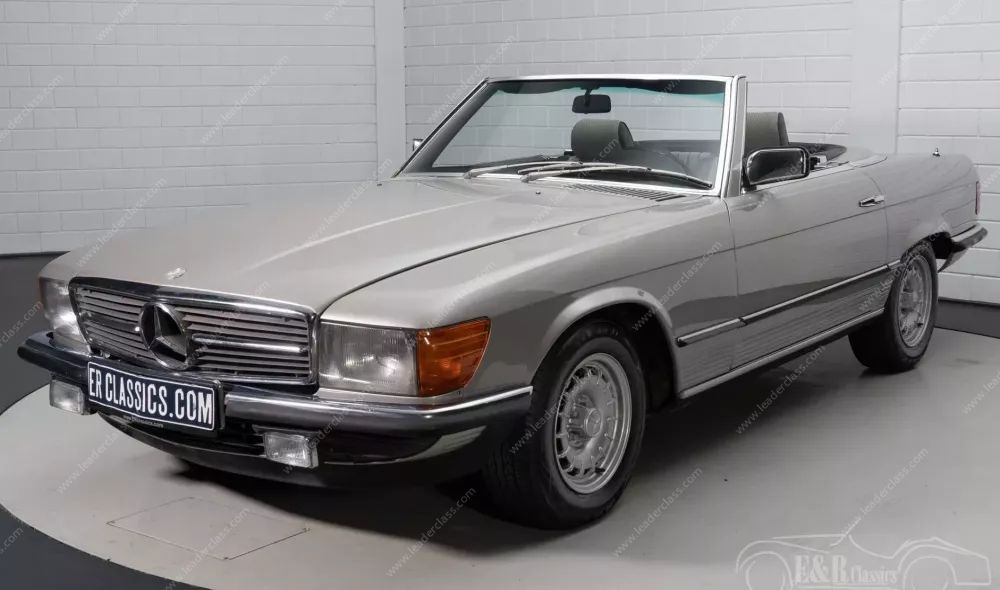 Mercedes-Benz 280 SL 1985 Used by E&R Classics
Mercedes-Benz 280SL | Très bon état | Histoire connue | 1985
Points forts:
- Historique de maintenance connu
- Très bonne condition
- Peinture Rauchsilber Metallic
- Capote noire
- 2800cc 6 cylindres
- Boîte de vitesses automatique
Mercedes-Benz 280 SL en très bon état à vendre
Nous proposons à la vente cette belle Mercedes-Benz 280 SL de 1985. Cette classique a toujours été bien entretenue par son précédent propriétaire et l'historique d'entretien est consigné sur factures. Tant optiquement que techniquement, la Mercedes-Benz 280 SL est en très bon état. Il est propulsé par un moteur 6 cylindres de 2800 cm3 avec boîte de vitesses automatique qui offre une expérience de conduite merveilleuse.
Mercedes-Benz 280 SL en Rauchsilber Metallic à vendre
Comme vous pouvez le voir sur les photos, cette Mercedes-Benz est vraiment un spectacle à voir. Il est fini dans la belle couleur d'usine 'Rauchsilber metallic'. Une couleur légèrement différente de la peinture gris argent standard et qui donne à ce classique un caractère distinctif. Elle est également équipée d'une capote noire et de jantes baroques d'origine. L'intérieur de la 280 SL est dans un état très soigné et est équipé d'une sellerie bleu foncé et grise qui se marie très bien avec la peinture. Le tableau de bord a des incrustations de bois qui s'harmonisent parfaitement avec un classique des années 80. La climatisation est également une option et garantit que vous restez bien au frais pendant la tournée.
Vous voulez acheter une Mercedes-Benz 280 SL ?
Vous cherchez une Mercedes-Benz 280 SL 1985? Alors laissez vos coordonnées via le formulaire de contact sur cette page ou appelez-nous directement au +31 416 751 393. Nos vendeurs se feront un plaisir de répondre à toutes vos questions ou même de réaliser une vidéo de boutique personnelle pour vous.
Fill in the form and click "Calculate"