Sold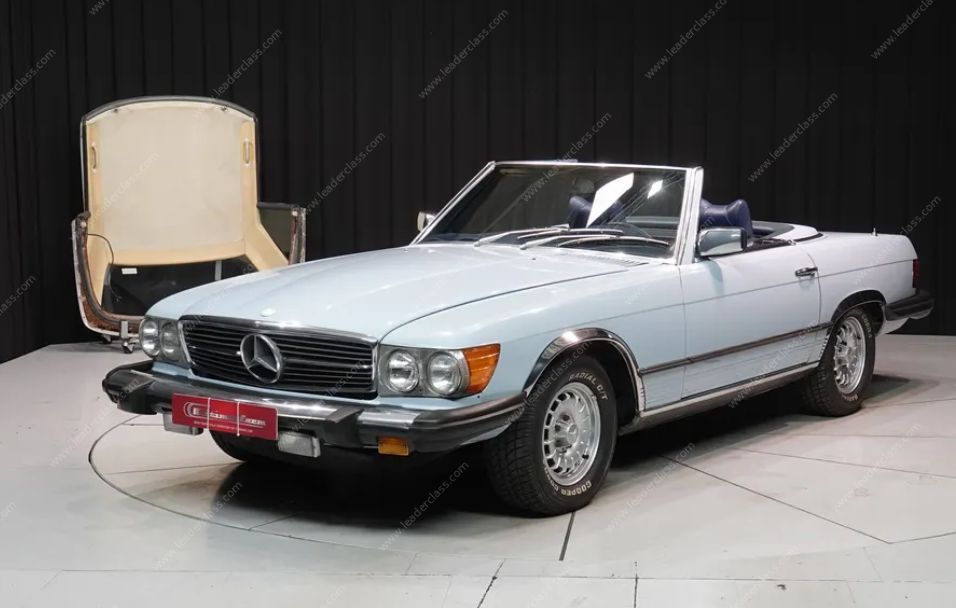 Mercedes-Benz 450 SL 1979 Used by Oldtimerfarm
La série Mercedes-Benz W107 (connue officiellement sous le nom de R107 pour le roadster et de C107 pour les coupés) a été produite de 1971 à 1989, ce qui en fait le modèle Mercedes qui est resté en production le plus longtemps, tous modèles confondus , parallèlement à la série G. Au total, environ 237 000 exemplaires ont été fabriqués. La R107 a remplacé la W113 (Pagode) en 1971 et a été remplacée par la W126C en 1981 pour les modèles coupé (SLC) et par la R129 en 1989 pour les modèles décapotables (SL).
En même temps que la 500SL (C), la 380SL (BM107.045) et la 380SLC (BM107.025) ont également été introduits en 1980 en remplacement des modèles 350. Celles-ci étaient équipées du nouveau moteur en alliage de 3,8 litres (M116E38) avec 218 ch (5500 tr / min) et 305 Nm (4000 tr / min). La production des modèles SLC a été arrêtée en 1981 et le successeur 380SEC de la série W126 a été introduit.
Anecdote: la SL r107, 380 SL rouge,  était pilotée par  Patrick Duffy (alias Bobby Ewing) dans la série Dallas.  On raconte que pendant ces années, les ventes de cette Mercedes Roadster ont augmenté de manière significative.
 Données techniques
Carrosserie
Longueur (cm): 439
Largeur (cm): 179
Hauteur (cm) : 130
Empattement (cm)246 :
Poids (kg) : 1545
Mécanique
Moteur : V8 4973 cc, à l'avant
Soupapes : 16
Carburation : injection indirecte Bosch K-Jetronic
Boîte de vitesses : automatique, , 3 rapports
Transmission : aux roues arrière
Puissance maximum : 217 chevaux (160 kW) à 5000 t/m
Couple maximum : 360 Nm à 3250 t/m
Vitesse maximum : 210 km/h
Fill in the form and click "Calculate"