Sold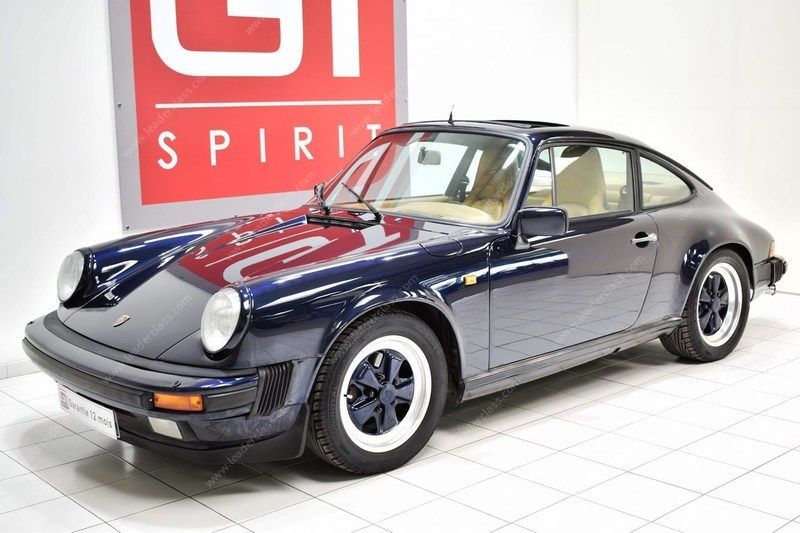 Porsche 911 1985 Used by GT Spirit
Année : 1985
Km au compteur : 148267
Conduite : à gauche
Carte grise : Normale
Nb de places assises : 4
Nb cylindres : 6 à plat
Cylindrée : 3164 cm3
Carburant : SP98 + additif
CV Din : 231
CV fiscaux : 17
Boîte : Manuelle 5 rapports
Couleur carrosserie : Dunkelblau
Couleur intérieur : Beige 99
Pneumatiques : Usure Av 50% + Ar 50%
Commentaires :
* GARANTIE 12 MOIS incluse 
* REPRISES et LIVRAISON possibles 
* Frais de mise à la route en sus : 390 € TTC (plein de carburant, passage contrôle technique, préparation intérieure et extérieure) 
* Service « carte grise » et « carte grise collection » (dossier FFVE inclus) 
PORSCHE 911 3.2L (1983 - 1989)  
77 584 ex. produits dont 37 383 coupés 
Matching numbers moteur + boîte (attestation PORSCHE France) 
Boite 915 
Manuels utilisateur d'origine  
Dossier de factures depuis 2011 (total:9.636€)  
Toit ouvrant électrique 
Spoiler avant "turbo" 
Anti-brouillards  
4 jantes type FUCHS en 16'' à fond « dunkelblau »  
4 pneumatiques UNIROYAL Rainsport 2 
Echangeurs + silencieux arrière neufs en 2019 (facture: 2.685 €)  
- échangeur droit 
- échangeur gauche 
- tube de liaison 
- embout tube de liaison 
- silencieux intermédiaire 
Freins AR neufs en 2019: 
- disques de frein arrière 
- jeu de plaquettes arrière  
Sellerie en cuir « Beige 99 »  
Siège conducteur réglable électriquement  
Siège passager sport réglable électriquement  
Contre portes en simili cuir « Beige 99 »  
Casquette de tableau de bord en cuir « Beige 99 » surpiqué  
Vitres électriques  
Instrumentation de bord VDO  
Horloge VDO  
Radio Cd / JVC 
Volant sport 3 branches en cuir « Noir » 
Moquettes d'origine coloris « Beige »  
Sur tapis PORSCHE coloris « Noir » 
Roue de secours « Space Saver » d'origine  
Notre analyse
Historique du modèle :
Considérée par de nombreux amateurs comme l'une des dernières PORSCHE à conserver la ligne originelle des 911, la Carrera 3.2L est celle qui a sorti la marque du gouffre financier. Sa fiabilité légendaire, sa ligne intemporelle et les sensations de conduites viriles et peu aseptisées qu'elle dispense en font aujourd'hui un best-seller sur le marché de la sportive de collection. Elle reste encore et toujours le grand classique de la 911 refroidie par air. L'injection électronique rend son utilisation aussi facile que celle d'un véhicule actuel, puisqu'il n'y a plus de carburateurs à régler ni de starter à gérer lors des démarrages à froid. De même, la caisse -entièrement traitée par électrolyse au zinc- est enfin efficacement protégée contre les ravages de la corrosion.  
Fill in the form and click "Calculate"