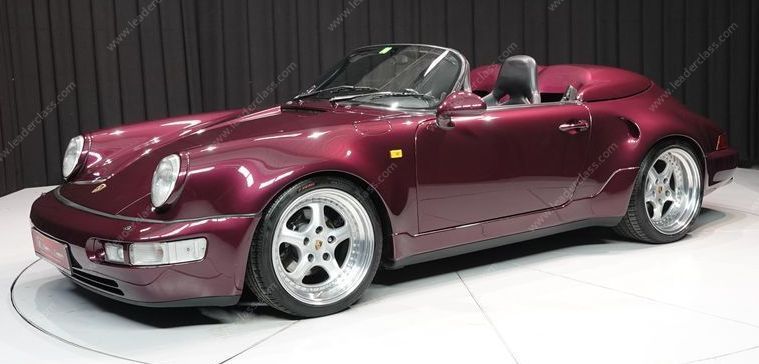 Porsche 911 1993 Used by Oldtimerfarm
Old Timer Farm :
964 Speedster Tech'art d'origine
Livré neuf en Belgique
Couleur sur commande spéciale
Visuellement amélioré par Tech Art (facile à revenir à l'original)
Faible kilométrage avec carnet
Installation stéréo spéciale
Opportunité unique
Condition: impeccable
La Porsche 911 (964) est produite à partir de 1989.  Il s'agit de la troisième génération de 911, également considérée comme la Porsche 911 du renouveau. Elle conserve le style des anciennes 911, mais elle est aussi la première à proposer quatre roues motrices.  La vesion propulsion arrière s'appelle désormais "Carerra 2" (1989), la traction intégrale "Carrera 4" (1988). Il y eut auparavant une traction intégrale, la 959, mais elle fut construite en série très limitée. 
En 1992, la Carrera subit quelques remaniements, majoritairement esthétiques : pneus de 17 pouces au lieu de 16, nouveaux rétroviseurs plus aérodynamiques, etc. Le compartiment à bagages diminue de volume dû à un réservoir plus grand ((92 litres au lieu de 77)
Toujours en 1993, le Speedster fait également son apparition. Il s'agit d'un  cabriolet sur base de Carrera 2, avec  un couvre-capote bombé, un pare-brise plus petit en hauteur, et des sièges baquet. Quant au "Turbo Look", vendue couramment sur le modèle 3,2 litres précédent, il n'est plus livré que sur commande.  Seuls 14 exemplaires ont été livrés.
Données techniques
Carrosserie
Longueur (cm) : 429
Largeur (cm): 177
Hauteur (cm) : 131
Empattement (cm) : 227
Poids (kg) : 1210 kg
Mécanique
Moteur : 6 cylindres à plat 3600 cc, refroidi par air, à l'arrière
Soupapes : 12
Carburation : injection Bosch
Boîte de vitesses : manuelle à cinq rapports
Transmission : aux 4 roues
Puissance maximum : 253 chevaux à 6100 t/m
Couple : 310 Nm à 4800 t/m
Vitesse maximum : 260 km/h
Fill in the form and click "Calculate"