Sold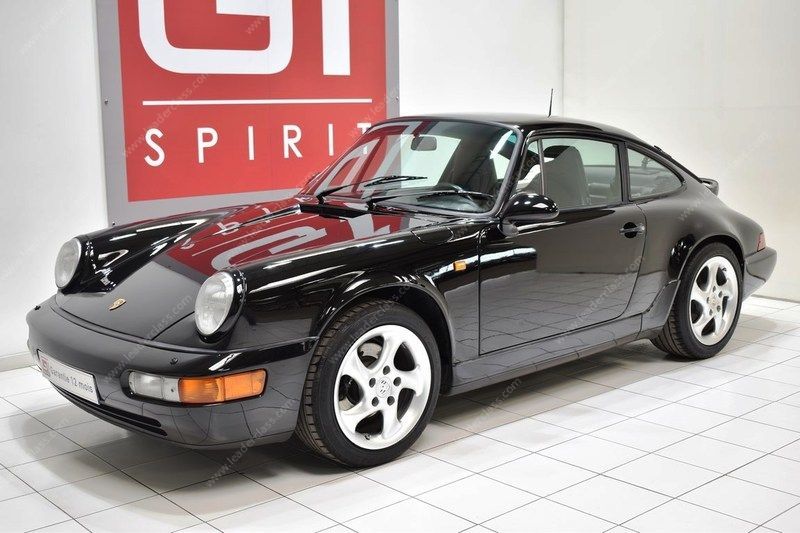 Porsche 964 1989 Used by GT Spirit
Année : 1989
Km au compteur : 172099
Conduite : à gauche
Carte grise : Normale
Nb de places assises : 4
Nb cylindres : 6 à plat
Cylindrée : 3600 cm3
Carburant : SP 98
CV Din : 250
CV fiscaux : 20
Boîte : Manuelle 5 rapports
Couleur carrosserie : Schwartz L 700
Couleur intérieur : Schwartz UD
Pneumatiques : Usure Av 50% + Ar Neufs
Commentaires :
* GARANTIE 12 MOIS incluse 
* REPRISES et LIVRAISON possibles 
* Frais de mise à la route en sus : 390 € TTC (plein de carburant, passage contrôle technique, préparation intérieure et extérieure) 
* Service « carte grise » et « carte grise collection » (dossier FFVE inclus) 
PORSCHE 964 Carrera 4 (1989 - 1993)  
42 200 ex. produits dont 15 151 en version Carrera 4  
Carnet d'entretien PORSCHE d'origine  
Matching numbers :châssis / moteur / boite de vitesse (Attestation PORSCHE France)  
Matching color: « Schwartz L 700 »  
Manuels utilisateur  
Suivi en centre PORSCHE et spécialistes  
Important dossier de factures depuis 1999 (30.209€) 
4 jantes Type "Turbo" en 17''  
Pneumatiques avant CONTINENTAL 
Pneumatiques arrière neufs à la livraison  
Jeu de plaquettes arrière neuf à la livraison  
Options et équipements :  
Intérieur Full cuir (avant+arrière) 
425 Essuie-glace arrière  
383 Siège sport conducteur avec reglages electrqiues  
387 Siège sport passager avec reglages electriques 
340 Sièges chauffants  
573 Climatisation  
Spoiler arrière additionnel 
Sellerie en cuir coloris « Schwartz UD »  
Vitres électriques  
Rétroviseurs électriques  
Instrumentation de bord VDO  
Horloge VDO  
Radio Cd SONY 
Ciel de toit coloris « Schwartz UD » 
Seuils de porte aluminium « Carrera 4 »  
Moquettes d'origine coloris « Schwartz »  
Trousse à outils d'origine  
Roue de secours « space saver »  
Notre analyse
Historique du modèle :
La première 911 « intégrale », Carrera 4 traduisant 4 roues motrices selon PORSCHE.
Lancée en 1989, elle inaugure un nouveau flat 6 de 3600 cm3 de 250ch qui apporte le couple qui manquait au 3.2L.
Cette version intégrale s'avère encore très efficace et sécurisante aujourd'hui, ce qui compense en partie la différence de puissance et l'absence de châssis « intelligent » (PASM) par rapport aux 911 type 996 et 997 actuelles, avec les saveurs et la sonorité de l'authentique 911 en plus…
Plus confortable avec la direction assistée, plus sûre aussi avec l'ABS, elle conserve néanmoins la caisse du 3.2L d'où sa ligne intemporelle.Carrosserie / Extérieur :
Le modèle présenté ici est une PORSCHE 964 Carrera 4 d'Octobre 1989 dans son coloris « Schwartz L 700 » d'origine (matching color).
La peinture carrosserie est aujourd'hui encore en excellent état, affichant une teinte homogène ainsi qu'une excellente brillance.
Fill in the form and click "Calculate"