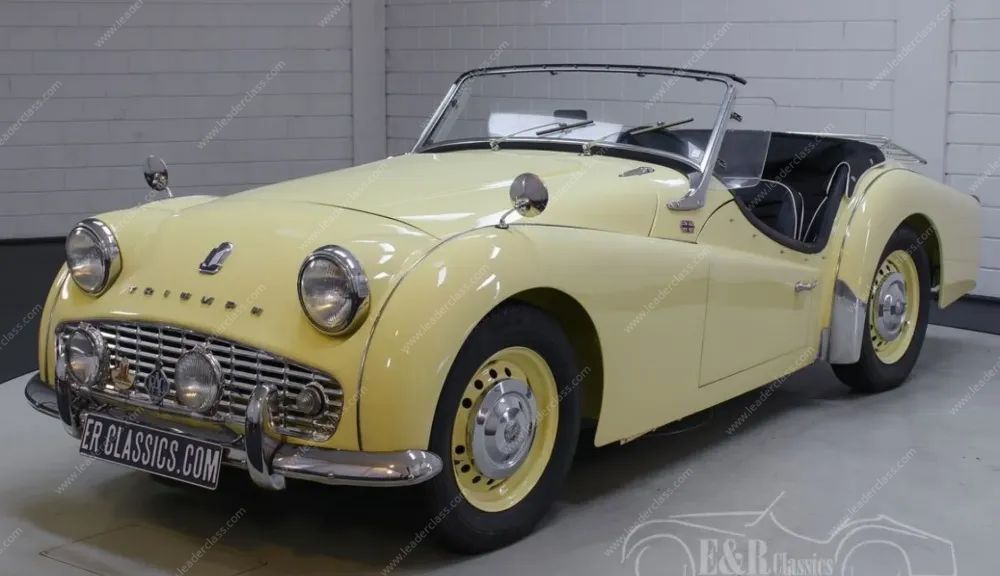 Triumph TR 3 1961 Used by E&R Classics
Points forts:
- Largement restaurée
- 100 km parcourus après la restauration
- Très bonne condition
- Reportage photo de restauration présente
Triumph TR3A entièrement restaurée à vendre
Nous vous proposons à la vente cette Triumph TR3A de 1961 magnifique. Cette voiture classique vient d'un expert Triumph qui a restauré des Triumphs classiques toute sa vie. Cette TR3A a été entièrement restaurée très récemment par l'ancien propriétaire et n'a parcouru que 100 km après la restauration. A la fois optiquement et techniquement ce classique est en très bon état. La restauration est documentée dans un reportage photo.
Triumph TR3A en très bon état à vendre
Cette Triumph TR3A est vraiment un spectacle à voir. La peinture jaune est magnifique sur cette Triumph et s'accorde parfaitement avec un classique de cette période. Le chrome de la TR3A est en très bon état et la classique est également équipée d'un certain nombre d'extras sympas tels qu'un porte-bagages et une barre de badge. L'intérieur est magnifique et est équipé d'une sellerie noire avec passepoil blanc. Êtes-vous à la recherche d'une voiture classique britannique pour conduire ou visiter des événements ? Alors cette Triumph TR3A est la voiture qu'il vous faut !
Fill in the form and click "Calculate"