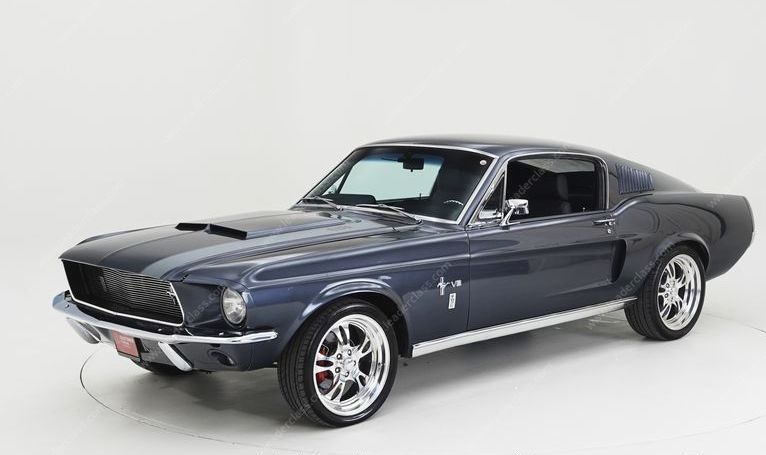 Ford Mustang 1967 Used by Oldtimerfarm
With a 2013 valuation report
Has been completely stripped, restored, customised and optimised in 2012; comes with maintenance bills since this big overhaul
Uttermost coveted first-generation Mustang
In mint condition with fun unique details
With certificate of authenticity

Technical information:

Body work

Length (cm): 461 (181 inch)
Width (cm): 173 (68 inch)
Height (cm): 130 (51 inch)
Wheelbase (cm): 274 (108 inch)
Weight (kg): 1325 (2921 lbs)

Mechanics

Engine: 4735 cc V8 'Windsor' front-engine
Valve gear: 16
Fuel system: 1 carburettor Holley
Gear box: 3-speed automatic
Transmission: RWD
Left-steered
power: 233 hp (172 kW) at 4800 t/m
torque: 414 Nm at 4800 t/m
Top speed: 193 km/h (120 mph)

The Ford Mustang has so far been introduced in all shapes, colours, and body styles by now. As early as 1964, the first Mustang rolled off the assembly line, and what Ford didn't know at that time was that this appealing sports car would conquer the world, shatter records, and still be so dominant almost sixty years later in the highly competitive automotive market. The seventh generation was recently unveiled, and by now, more than ten million Mustangs have been built across all generations; it seems like the end of the Mustang story is nowhere in sight.

John Najjar is the man who came up with the idea to design a sports car to enrich Ford's lineup. He, along with a colleague in Ford's design department, decided to build a prototype based on a similarly named American fighter plane used during World War II. In 1962, a prototype was shown, and it stunned. Nevertheless, the prototype was refined and then launched officially in 1965.

The first Mustangs sold incredibly well and found their place in the market. They were sporty, powered by a V8 engine, relatively luxurious, high-quality, and, moreover, affordable, making them very appealing to a wide audience. Records were shattered for these reasons, and the Mustang took the world, leading to the introduction of a second, third, fourth, and now seventh variant. In 2019, an electric SUV Mustang appeared under the name 'Mustang Mach-E,' which deviated somewhat from the traditional concept but still proved to be successful.

Ford Mustang I

The first-generation Mustang has, for several decades now, joined the ranks of ultimate icons. It's a must-have for many.According to Ford, the first Mustang had to meet certain criteria: it had to accommodate four passengers, weigh no more than 1100 kg, be cheaper than 2,500 USD (which is equivalent to 23,589 USD today), and be partially customizable by the customer to deliver a tailor-made product. The bold design and catchy idea turned out to be a bullseye and prompted Pontiac, Chevrolet, and Dodge to design their respective Firebird, Camaro, and Challenger models.
Fill in the form and click "Calculate"