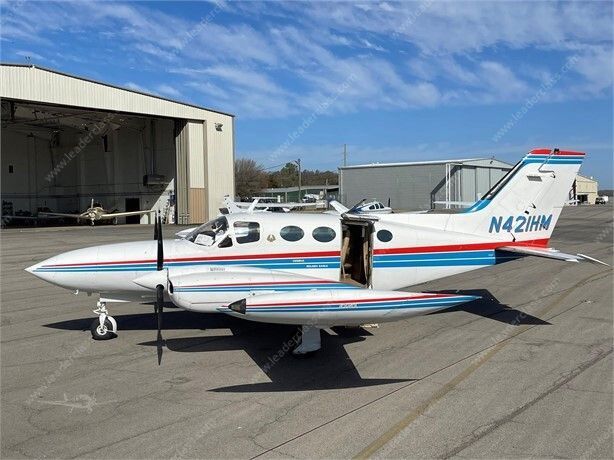 Cessna 421B 1970 Occasion
General
Year
1970
Manufacturer
CESSNA
Model
421B
Serial Number
421B0029
Registration #
N421HM
Condition
Used
Description
1970 Cessna 421 Bravo, available now, 6413.3 TT, 540.4 left engine, 698.0 right engine, 437.2 left and right prop , Complete logs, Will take trades.
Airframe
Total Time
6,413.3
Useful Load
1,986 lb
Complete Logs
Yes
Airframe Notes
1970 Cessna 421 Bravo S/N 421B0029
Engine 1
Engine 1 Make/Model
CONTINENTAL GTSIO520
Engine 1 Serial Number
817735-R
Engine 1 Time
540.4 SFRM
Engine 1 TBO
1,200
Engine 1 Notes
Left Engine Continental GTSIO-520
Engine 2
Engine 2 Make/Model
CONTINENTAL GTSIO520
Engine 2 Serial Number
267106-R
Engine 2 Time
437.2 SMOH
Engine 2 TBO
1,200
Engine 2 Notes
Right Engine Continental GTSIO-520
Props
Prop 1 Manufacturer
MCCAULEY
Prop 1 Overhaul Time
437.2
Prop 2 Manufacturer
MCCAULEY
Prop 2 Overhaul Time
437.2
Prop Notes
Left-Prop 1 Right Prop 2
Avionics
Avionics/Radios
Garmin GMA 347; Garmin GNS 530W; Garmin SL30; Stratus 2 ELS transponder ADSB Out.
Additional Equipment
Additional Equipment
A/C; Electric Trim; Prop Sync; O2 system; Deice boots; Prop Anti-Ice, TKS Anti-ice windscreen; 720 Safe Heet Engine Preheater; S-TEC 65 II with Yaw Damper; Radar Altimeter
Exterior
Exterior Notes
Good
Interior
Interior Notes
Good
Inspection Status
Inspection Status
Date of Last Annual: 12/30/2022 Date of Last Pitot Static, Altimeter, and Transponder checks: 5/2017 Due Now
Fill in the form and click "Calculate"